Hearing Aids and Hearing Tests in Bountiful, UT
---
We offer hearing tests, hearing aid repair and hearing aids from the leading manufacturers. Brands offered in Bountiful include Siemens, Starkey, Oticon, Widex, Resound, Unitron and Phonak.
---
Contact
Address 505 S 100 E
City, State, ZIP Bountiful, UT 84010
Phone (801) 503-0077
Hours
Wednesday & Thursday 9am – 5pm
Directions
Please call our practice for driving directions.
Contact the Bountiful Office
[[[["field9","equal_to","Arizona"]],[["show_fields","field13"]],"and"],[[["field9","equal_to","Utah"]],[["show_fields","field21"]],"and"],[[["field9","equal_to","California"]],[["show_fields","field17"]],"and"],[[["field9","equal_to","Nevada"]],[["show_fields","field20"]],"and"],[[["field9","equal_to","Oregon"]],[["show_fields","field18"]],"and"],[[["field9","equal_to","Wyoming"]],[["show_fields","field14"]],"and"],[[["field9","equal_to","Idaho"]],[["show_fields","field19"]],"and"],[[["field29","equal_to","EU"]],[["redirect_to",null,"https:\/\/myhearingcenters.com\/thank-you-eu\/"],["show_fields","field30"]],"and"]]
More About Our Bountiful Office
Mark Blau, Au.D.
Audiologist
License Number: 8590511-4101
Training: Certificate of Clinical Competence in Audiology Schooling: Bachelors of Science in Speech and Language Pathology Doctorate of Audiology
Mark is an audiologist who loves serving patients in the Salt Lake Area. As a native to Springville, Utah, Mark loves the opportunity to help patients so close to home. Mark firmly stands by the belief that every patient is family and aims to treat them as such by providing them with exceptional care and service. His extensive training allows him to find the best solution for all of his patients. When he's not seeing patients, Mark stays busy being the dad of three young kids and can be found riding bikes, reading, or playing sports.
"Treat everyone like family.͛ That is how I approach each patient. When I treat my patients as family, I know I can help everyone in need and I will provide all of my patients with the best care."
---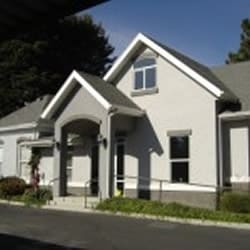 Our hearing center located in Bountiful, UT at 505 S 100 E, offers the best hearing aid services and products on the market. Our services and products will help you improve your quality of life through better hearing. We have a great staff who will treat you with great care and help you every step of the way throughout your experience with My Hearing Centers. Our office has the most qualified hearing professionals in the industry who will offer you a recommendation for your specific hearing loss, in depth hearing evaluations, and the most cutting edge hearing aid technology on the market. At My Hearing Centers we are more than happy to answer any questions or concerns you may have while giving you the great patient care you deserve.
If you have even the slightest concern that you may have any hearing problems, please call our office and make an appointment. Our hearing professionals will conduct a free hearing screening and provide you with hearing recommendations for your specific type of hearing loss. We will suggest the best possible remedy to help your hearing problems and set you on track to enjoying life more fully.
We love interacting with our patients while also enhancing their quality of life through our quality products and service, all at an affordable price. Our mission is to not let anyone's hearing loss continue to affect them from fully enjoying their life. Please do not put off getting your hearing tested and fixing your hearing loss any longer, contact our Bountiful office today to schedule a complimentary evaluation.
In addition to our great services we have created the following incentives to offer our patients:
The most cutting edge hearing technologies available today.
2 to 3 year complete service warranty with damage and loss coverage on nearly all hearing aids.
Risk-free 30 day adjustment period.
Free in-office cleanings, repairs and adjustments.
Free annual hearing evaluation.
Variety of insurances accepted.
Hearing Aids Offered in Bountiful
Popular Places Near Bountiful
Bountiful Utah Temple
Mueller Park trails
Grimm Ghost Tours
Facts about Bountiful
Bountiful was settled on September 27, 1847, by Perrigrine Sessions and his family. It was Utah's second settlement after Salt Lake City.
The city celebrates its history at the annual Handcart Days celebration every July in conjunction with U.S. State of Utah's official holiday, Pioneer Day.
Interested in Learning More?
We offer educational seminars about hearing, hearing loss and new technology.
Attend Ear School
My Hearing Centers
505 S 100 E
Bountiful
,
UT
84010
Phone:
801-503-0077