Rechargeable Hearing Aids and Batteries
At My Hearing Centers, we understand how frustrating or embarrassing it can be to lose power at the wrong moment.
Hearing aids have revolutionized the way we hear the world around us. In the past decade, they have evolved into discreet, fast, and incredibly powerful devices – not unlike tiny computers we can wear in our ears! But unlike our laptops and smartphones which are fully rechargeable, hearing aids use very small batteries that aren't rechargeable. Until now. We've finally found a way to fulfill advanced power needs in a tiny rechargeable battery!
Say goodbye to changing batteries, and have a positive impact on the environment!
Your hearing aids are your window the world, keeping you connected with your loved ones, your colleagues, and your environment. If you recall a time before you were fitted with hearing aids, think of how much more confident you are now in your daily life with increased accessibility to sounds. When your hearing aids lose power – suddenly and unexpectedly – and you don't happen to have a spare pair of batteries on you, this could greatly impact your day!
We work closely with Signia, Siemens, and zPower to bring you the best in rechargeable hearing technology. With new technology for rechargeable batteries, you may go confidently forth in your day with longer-lasting batteries.  Rechargeable hearing aids also bring other benefits to your life, from savings to your wallet to saving the environment.
Hassle-Free Hearing
Whether you are new to hearing aids or you are a seasoned wearer, you know the hassle of changing batteries. When leaving the house, you've got to remember to bring along an extra pair of batteries – just in case. If you experience dexterity issues, such as arthritis, you'll know how difficult it is to struggle with the tiny hearing aid battery compartment door and the even smaller battery that must be placed carefully inside.
Recharging your batteries is easy. Depending on the hearing aid model you have,  just place the entire hearing aid in the charging dock overnight. This design means you don't have to remove the battery to charge it. Stop worrying about running out of power, because rechargeable batteries will last 16-20 hours on a single charge. You never have to waste time and patience fiddling with those tiny hearing aid batteries again!
And think of the benefits to your wallet! How much do you spend on hearing aid batteries in a month, a year? These days, new digital hearing aids with fast processing platforms tend to drain batteries. When before, you may be looking at an average of $30 to $50 a year for hearing aids, you're not looking at perhaps over $100 annually. With rechargeable hearing aid batteries, you'll have the one-time cost of the aid and/or battery system – and you won't have to worry for months if not years about replacing those batteries. You'll also be saving money, since your rechargeable hearing aids last months instead of days.
Environmentally Conscious
Have you considered the effect of battery waste on the environment? Now that we are in a crossroads of environmental change, it is important to reduce our footprints. It has been estimated that traditional hearing aids can use around 200 batteries per year! These are often not recycled properly and contribute to the millions of batteries that end up in landfills every year, contaminating soil and water.
If you multiply that number by the number of people on the planet who use hearing aids – hundreds of thousands – you'll have some sense of the true cost of batteries on the environment. Rechargeable batteries mean you're making the right choice for the planet, reducing waste, and making positive change for future generations.
Rechargeable Hearing Aids
Signia/Siemens eCharger
Siemens is leading the way in sustainable power. With their eCharger, all you have to do is place your Siemens hearing aids in the eCharger overnight. The batteries are fully charged after 6 hours, and will power your hearing for the entire day. This battery guarantees top performance in every situation by providing a constant voltage level to even the most powerful hearing aids. The eCharger also has an Electronic Drying Function which dries out your hearing aids every night, providing protection from moisture damage so you can be confident in your hearing aid reliability.
As one of the leaders of the industry, Siemens offers sophisticated hearing instruments to address the many facets of hearing loss. Siemens offers several hearing aid models that are rechargeable. The Pure is a line of rechargeable receiver-in-canal (RIC) hearing aids, which are ultra-small and discreet. Carat is another RIC hearing aid that is rechargeable, while the Motion is a behind-the-ear model that is fully customizable. Ask us at My Hearing Centers about these rechargeable hearing aid options.
Phonak B-R
Phonak's Audeo B-R is the company's first hearing aid with a rechargeable battery system.
The Audeo B-R is a receiver-in-canal hearing aid that is powered by a new lithium-ion rechargeable battery. The Audeo B-R is the first hearing aid with a built-in lithium-ion rechargeable battery that provides 2 hours of hearing.
Phonak B-R wearers only need to charge their batteries for 30 minutes, which gives 6 hours of immediate use. A longer charging time yields longer battery life.
---
Signia Pure Charge&Go Nx.
Enjoying the great outdoors with friends, conducting long business meetings, listening to your favorite podcast or music — no matter how much activity and work you like to pack into your day, Signia's longer-lasting Pure® Charge&Go keeps going with you. True to its name, Pure Charge&Go can be fully charged while you sleep so that it's always ready to go when you are.
zPower Rechargeable Battery System
Like the Siemens battery, zPower provides long lasting power after an overnight charge. zPower batteries are fully charged after just 2-4 hours, last for over 24 hours, and only need to be replaced once per year! These batteries can be charged hundreds of times without weakening or losing energy storage. Each zPower battery replaces about 100 traditional batteries, and is fully recyclable.Using a revolutionary silver-zinc battery, zPower provides 40% more capacity than traditional lithium-ion batteries, and guarantees long-lasting power to even the most advanced and power-hungry models. zPower is an all American company, based in Camarillo, California, providing dependability and local product support.
What makes zPower special is its compatibility with many different hearing aid brands. These include Phonak, Resound, Starkey, Siemens, Signia, Rexton, and Beltone. zPower provides batteries and a battery door that takes the place of the original battery and door, allowing for many traditional styles to be easily converted to rechargeable technology. This gives you a wide range of choice to find the hearing aid that suits your needs, all without worrying about the battery.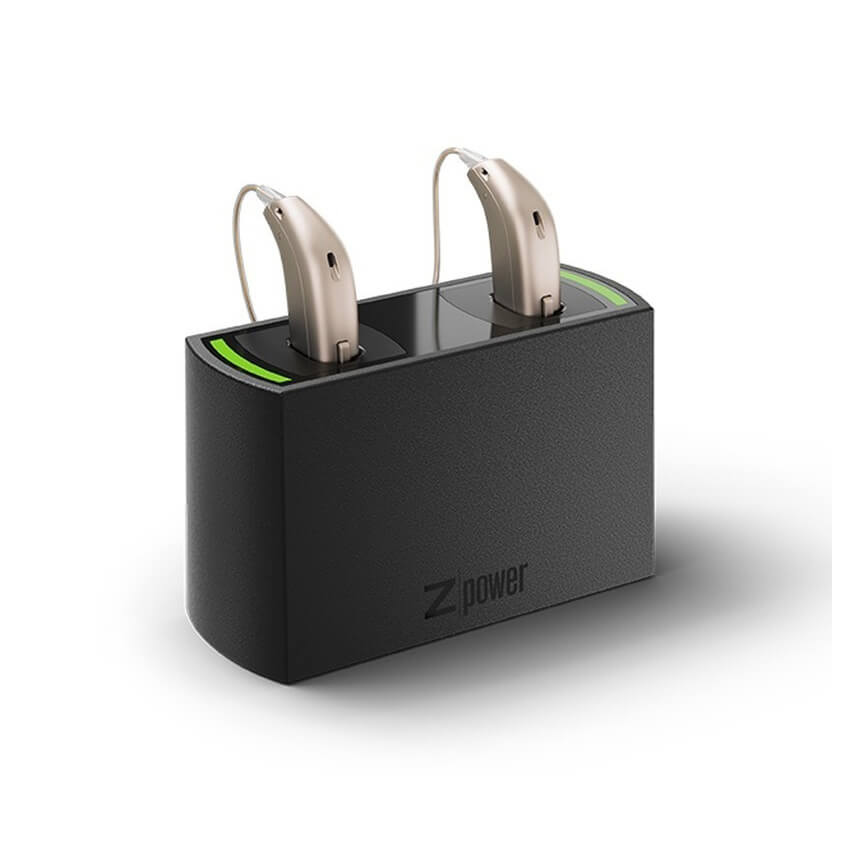 ---
zPower is available at My Hearing Centers for the following brands:
---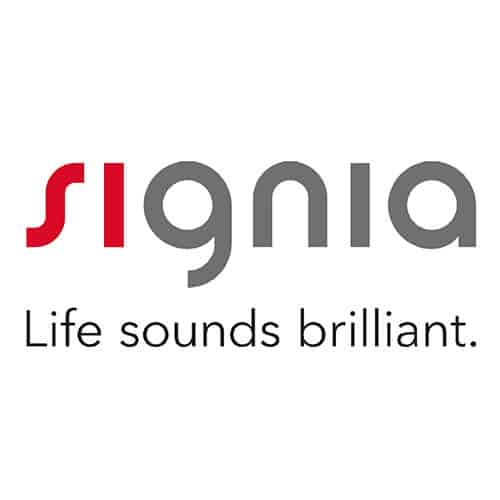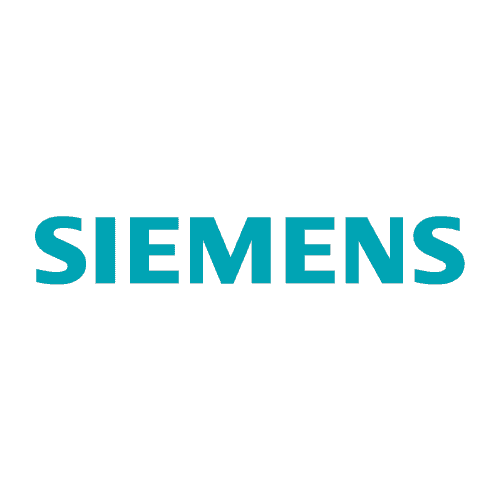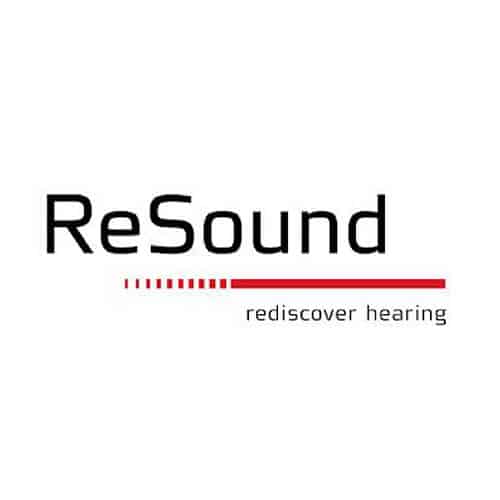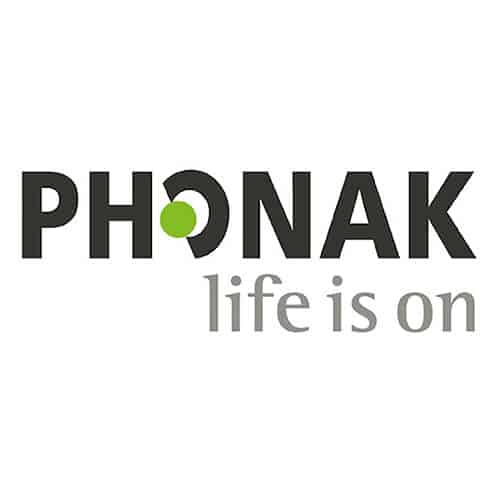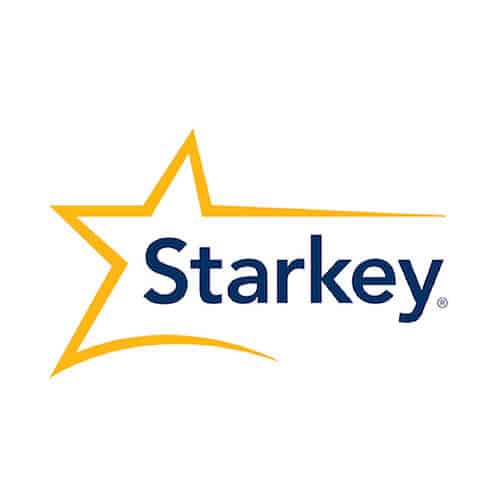 Interested in Hearing Better?
Our specialists are experts at helping you find the right hearing solution for you. Schedule a FREE hearing test and consultation at one of our over 50 locations by calling (888) 230-0875
Find a Location Near You