---
Siemens is a German hearing aid manufacturer, founded in Berlin in 1847. Though the company began as a manufacturer of telegraphic instruments, Siemens began to focus on inventing instruments to improve the lives of people who are hard of hearing in 1877, with the invention of the telephone. Their first hearing instrument was an amplified telephone receiver. The innovation continued with the first Siemens hearing aid in 1913, the first behind-the-ear hearing aid in 1959, and the first in-the-ear hearing aid in 1966. In 2014, Siemens hearing aids introduced the binax, the first hearing aid to outperform normal hearing.
In 2015, Siemens was co-branded with Signia, a new brand of hearing aids, under the same parent company, Sivantos Group.
Signia incorporates the innovative technology developed through Siemens, including elements of primax technology. For this dual brand with Signia, Sivantos Group hopes to "create a brand that is more human and personal, while building on the Siemens values of technological innovation and quality."
binax: Outperforming Normal Hearing
The binax was the subject of two independent studies, conducted by the University of Northern Colorado and the Hearing Center of the University of Oldenburg. Results show that people who are hard of hearing and wear the Siemens binax were able to hear better than people with normal hearing in challenging noise situations – such as busy restaurants. The Siemens binax is equipped with e2e wireless technology, which simulates binaural hearing through an eight microphone network (four per hearing aid, which wirelessly share and balance audio data).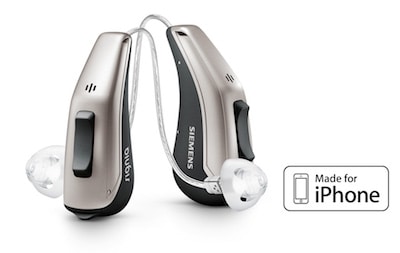 The binax is also equipped with new and improved features, which include: Narrow Directionality, which allows wearers to focus on specific sounds; Spatial Speech Focus which improves speech recognition against background noise; eWindScreen binaural, which balances sound between ears in windy environments; and High Definition Sound Resolution, which delivers a clear quality of sound.
Learn more about Signia
Interested in Siemens Hearing Aids?
Our specialists are experts at helping you find the right hearing solution for you. Schedule a FREE hearing test and consultation at one of our over 50 locations by calling (888) 230-0875
Find a Location Near You