---
---

---
Siemens Hearing Aids
Siemens is a German hearing aid manufacturer, founded in Berlin in 1847. Though the company began as a manufacturer of telegraphic instruments, Siemens began to focus on inventing instruments to improve the lives of people who are hard of hearing in 1877, with the invention of the telephone. Their first hearing instrument was an amplified telephone receiver. The innovation continued with the first Siemens hearing aid in 1913, the first behind-the-ear hearing aid in 1959, and the first in-the-ear hearing aid in 1966. In 2014, Siemens introduced the binax, the first hearing aid to outperform normal hearing.
---
Siemens binax: Outperforming Normal Hearing
The binax was the subject of two independent studies, conducted by the University of Northern Colorado and the Hearing Center of the University of Oldenburg. Results show that people who are hard of hearing and wear the Siemens binax were able to hear better than people with normal hearing in challenging noise situations – such as busy restaurants. The Siemens binax is equipped with e2e wireless technology, which simulates binaural hearing through an eight microphone network (four per hearing aid, which wirelessly share and balance audio data).
The binax is also equipped with new and improved features, which include: Narrow Directionality, which allows wearers to focus on specific sounds; Spatial Speech Focus which improves speech recognition against background noise; eWindScreen binaural, which balances sound between ears in windy environments; and High Definition Sound Resolution, which delivers a clear quality of sound.
---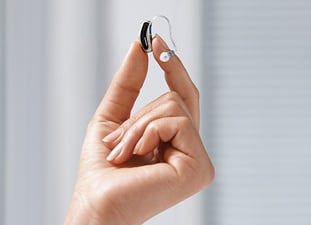 Siemens Aquaris: A Waterproof Hearing Aid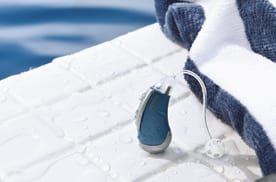 The Siemens Aquaris is the world's first fully waterproof, dust proof and shock proof hearing aid. On the Ingress Protection scale, which measures protection from solids (0 to 6) and liquids (0 to 9), the Aquaris scored the highest possible rating, a 68 after long-term immersion. Unlike other hearing aids, the Aquaris can be worn in the shower or in the pool, and it is a favorite of people with active lifestyles – withstanding sweat as well as the elements.
Wireless Connectivity
Siemens hearing aids connect to smart phones and other personal electronic devices through two downloadable apps, easyTek and touchControl. Both apps enable wearers to control the volume and program functions on their hearing aids through their phone, thus increasing accessibility and maintaining a level of discretion. Through this wireless connection, wearers are able to stream phone calls, music, and media directly from their devices to their Siemens hearing aids. Additionally, these devices transform into assistive listening devices – through these apps, the strategic placement of a smartphone will amplify sounds wearers want to hear.
Other Features & Styles
Siemens hearing aids treat varying degrees of hearing loss, from mild to profound, and are available to be worn in a three main styles: behind-the-ear, in-the-ear, and receiver-in-canal. All hearing aids are customizable to meet wearers' specific needs. Binax hearing aids are available in a complete line of receiver-in-canal and behind-the-ear styles, as well as a customizable option. Behind-the-ear models include the Aquaris, Motion, Nitro, Orion, Sirion, Intuis, and Lotus. In-the-ear models include Nitro, Orion 2, Sirion 2, Intuis 2, and Lotus. Receiver-in-canal styles include Ace, Pure, Carat, and Orion 2. Siemens also offers a line of assistive listening devices and tinnitus therapy solutions for their hearing aids.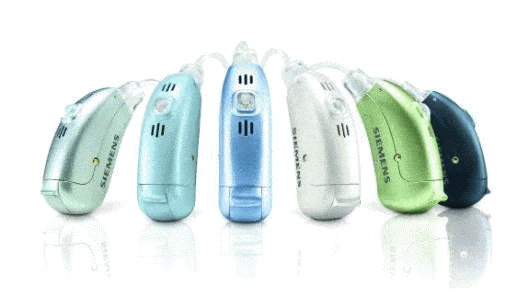 I purchased Siemens Pure 301 hearing aids 6/28/12 and have worked with Lisa Mander since then. I was very apprehensive as I had heard many tales of trials and tribulations (about hearing aids). My experience has been extremely positive. Lisa has been very thorough in helping me adjust. I would recommend My Hearing Centers (especially Lisa) to anyone.Jay W.

I love my new hearing aids!(Siemens Mi5's with Minitek) I can hear so much better and I love that the sound comes directly to my ears. (Minitek Bluetooth feature)" Thank you!Beth G.
Interested in Siemens Hearing Aids?
Our specialists are experts at helping you find the right hearing solution for you. Schedule a FREE hearing test and consultation at one of our over 50 locations by calling (888) 230-0875
Find a Location Near You