---
Unitron is a Canadian hearing aid manufacturer founded in 1964 in what is considered Canada's Silicon Valley. Unitron is committed to making life better through innovation. Along with the National Centre for Audiology at Western University, Unitron tests hearing instruments on real people and receive feedback from audiologists and product experts. Unitron shapes their hearing instruments based on feedback and comments from these tests before they are released to the market. As a global leader, Unitron supports community efforts such as the Global Foundation for Children with Hearing Loss and Hear the World Foundation.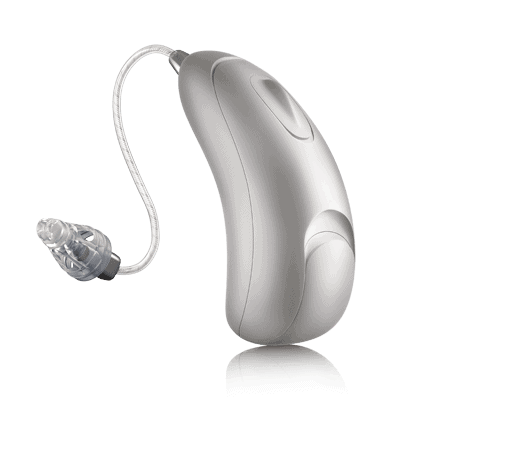 Conversations drive the world. Tempus drives conversations.
Tempus Processing Platform

Unitron's latest sound processing platform is called Tempus, and it is based on a foundation of Unitron's proven sound quality. Built into Unitron's hearing technologies, Tempus provides wearers with natural sound, clean signals, and a greater dynamic range. Its wide dynamic range allows for a better sound picture without distortion, while the dual core processing performs tasks quickly. Tempus also provides wearers with better focus of sounds in noise, with seven settings for seven common sound environments. These include better focus in noise and quiet, a special music feature, and four specific to conversations: conversation in quiet, in a small group, in a crowd, and in noise.
Essentially, BrainHearing technology assists the brain with the hearing process. Powered by the fast Inium processing platform, BrainHearing consists of four main features: Spatial Sound, Free Focus, Speech Guard E and YouMatic. Spatial Sound and Free Focus enhance the brain's ability to sense the direction from which sounds originate and assist wearers in focusing and zooming in on sounds they want to hear. Speech Guard E improves speech recognition, especially in noisy environments and difficult listening situations, such as busy restaurants or in conversation with multiple speakers. YouMatic allows wearers to personalize their listening experience for a natural sound.
TrueFit Software and Flex
With the understanding that hearing is a very personal experience, Unitron's TrueFit software gives wearers control over what and how they hear. TrueFit Software is an interactive system that allows wearers to work with their audiologists toward the best hearing solution. TrueFit Software provides a log of data based on the wearer's listening experience, which enables hearing professionals to make better adjustments and fine-tuning to your hearing aid to improve the listening experience.
Unitron's Flex program allows wearers to wear Unitron hearing aids on a trial basis, so that wearers may experience the difference in listening with Unitron – and also for Unitron to archive the preferences and listening experience of the patient throughout the day.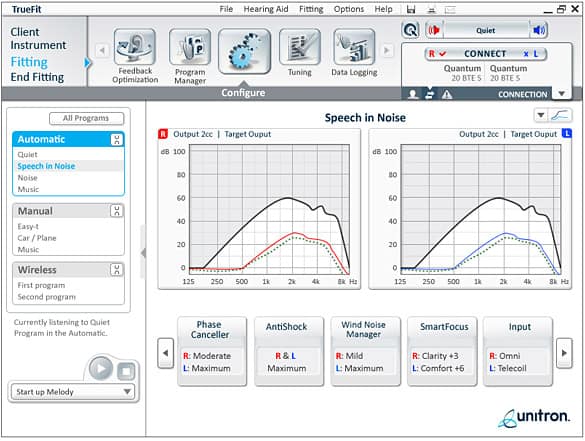 ---
According to surveys, 84% of Flex customers believe that the trial experience improves their own experience with hearing aids; 83% of Flex customers report an increase in the number of patients purchasing Unitron hearing aids; and 82% of Flex customers report that the trial period helps to fit higher technology levels to hearing needs.
Unitron Rechargeables
All Unitron rechargeable solutions are powered by Tempus, the newest platform that is the best in conversations offered by Unitron. They connect directly to your mobile phone, providing seamless connectivity.

Hearing Aid Styles and Features
Unitron hearing aids are available in the following models: Stride, Moxi, Max. Each family of hearing aids is available in several different levels of technology to treat different degrees of hearing loss. Depending on the model, Unitron offers Bluetooth compatibility through wireless connection, opening up accessibility to wearers.
Moxi
Unitron recently introduced the Moxi Now, the world's smallest receiver-in-canal, powered by the North Platform. Moxi Now offers many of Unitron's best features: Speech Zone 2, Binaural Spatial Processing, SoundNav, Sound Conductor, and Automatic Adaptation Manager.
Learn about Oticon Opn
---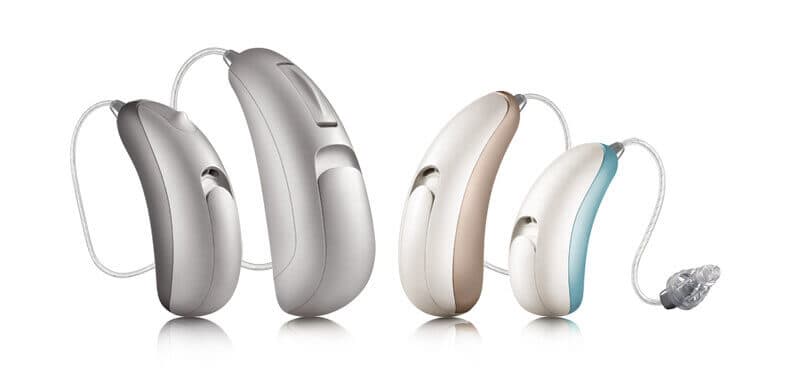 Max
For those with severe to profound hearing loss, Unitron Max hearing aids provided enhanced speech intelligibility and a long battery life. Max is a behind-the-ear hearing aid and is available in three technology levels.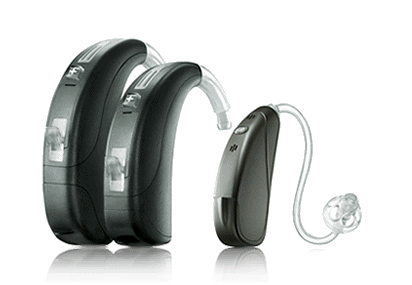 Stride
Unitron Stride hearing aids are worn in behind-the-ear and in-the-ear styles. Stride is known for its excellent speech recognition and focus in conversations. Stride hearing aids are programmed for binaural spatial processing, which means the two hearing aids work together to determine the direction of speech.
---