The Swiss manufacturer Phonak was founded in 1947 and has been committed to reconnecting people to their passions and loved ones with innovative hearing technology. Phonak has also been instrument in raising awareness and eliminating taboos about hearing loss, vowing not to rest until "wearing a hearing aid is as simple and routine as eyeglasses or contact lenses." Along with their activism, Phonak has a long history of innovation, with the SuperFront hearing aid in 1978, AudioZoom multi-microphone technology in 1999, and SmartLink, a Bluetooth-compatible hearing aid introduced in 2003.
Lyric: 24/7 – Truly Invisible Hearing Aids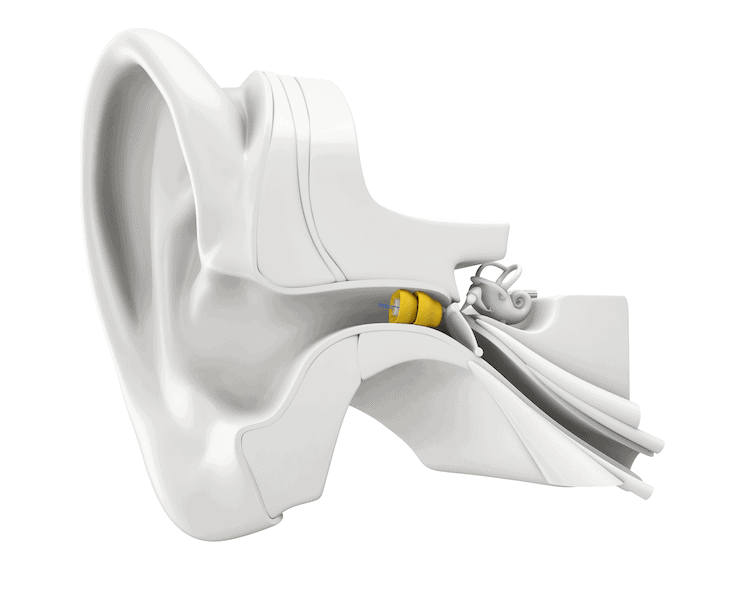 Lyric is the first fully invisible hearing aid that can be worn up to four months without removal. The first of its kind, Lyric is known as a "contact lens for the ear" and may remain inserted in the ear canal throughout the day, even in the shower or the swimming pool. The Lyric must be inserted in the ear canal by an audiologist, where it sits near the eardrum. For people with mild to moderately severe hearing loss, the Lyric is a convenient and seamless hearing solution, delivering high-quality sound by working with the ear's natural anatomy. Unlike other invisible hearing aids, the Lyric is designed to reduce background noise and to improve high-frequency sounds. When the battery nears the end of its life, your audiologist will remove the Lyric and replace it with a new one.
Phonak Hearing Aid Features and Technology
Phonak hearing aids are equipped with the Venture platform, a new chip technology that offers twice the processing power of its predecessors and reduces battery consumption up to 30%. Venture offers three new programs: Speech in Car, Comfort in Echo, and Music, all of which create stable listening environments and capture a rich spectrum of sound. Additionally, the Speech in Loud Noise feature is enhanced with StereoZoom, which enhances speech recognition up to 60% from older models. The AutoSense OS captures and analyzes sounds from the wearer's surroundings and blends this date with Phonak programs to provide wearers a balanced listening experience.
---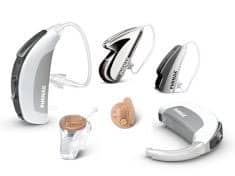 ---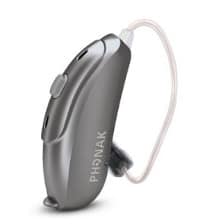 Phonak Styles and Models
Phonak's three most popular models are the Audéo, Virto, and Bolero V hearing aids, which are available in different power levels to meet varying degrees of hearing loss. Audéo V is a receiver-in-canal hearing aid, Virto V is a customizable in-the-ear hearing aid, and the Bolero V is a behind-the-ear hearing aid. All three models reduce background noise to maximize sound quality, enhance speech recognition especially in challenging environments, assist wearers with hearing in cars and wind, and automatically select the best program settings depending on the environment.
The SkyQ series of hearing aids is designed specifically for children and teenagers. These hearing aids are sturdily designed to withstand the active lifestyles of young people, and come with tamper proof battery doors. They are also water and dust resistant, and are compatible with wireless devices.
The CROS II hearing aid is designed for single-sided deafness. It balances audio signals between the hearing ear with a microphone that picks up voices and sounds on the side of the non-hearing ear. CROS, which stands for Contralateral Routing of Signal," wirelessly transmits these signals. For children with single-sided deafness, Phonak offers the Roger hearing aid.
Phonak Audéo B-R – The first ever lithium-ion rechargeable hearing aid

Interested in Phonak Hearing Aids?
Our specialists are experts at helping you find the right hearing solution for you. Schedule a FREE hearing test & consultation at one of our over 50 locations by calling (888) 230-0875
Find a Location Near You