Made for iPhone Hearing Aids
At My Hearing Centers, we carry several made for iPhone hearing aids.

If you need to get hearing aids but have been putting it off, let's talk. You may be imagining a cumbersome device that only amplifies sounds and nothing else. The hearing aids of today are nothing like that of previous generations! They're sleek and sophisticated, loaded with all sorts of cool programs and settings to make your life easy and give you natural hearing. With programs for listening to music, controlling tinnitus, connecting to PA systems in public venues, or managing feedback in outdoor environments, hearing aids of today have it all. Perhaps the most exciting new development in hearing aid technology is connectivity via your iPhone so that your hearing aids can serve you in every aspect of your life.
Phone conversations made easy.

Having hearing aids that connect to your iPhone will forever change how you interact with the technology around you. Phone calls are a breeze. Just hit answer, and the conversation streams automatically to your hearing aids. With the conversation happening right in your ear, you can stop stressing every time the phone rings, and enjoy talking to your friends on the phone again.
Changing settings discreetly.

With made for iPhone hearing aids, you can say goodbye to endlessly fiddling to try to find the right settings. You can manage all the programs and settings easily and discreetly from your iPhone. Just download an easy to use app and take control of your hearing. It's easy to switch between programs or change the volume. You can even geo-tag settings, meaning certain settings will automatically activate when you're at that location. Save program choices for work, home, or the gym, never having to lift a finger or draw attention to your hearing aids.
---
One of our most popular models is the LiNX2. It's one of the smartest hearing aids on the market, and features ultimate connectivity. It effortlessly connects to your iPhone, iPad or iPod Touch, and allows you to fully personalize your hearing experience. You can stream music, phone calls or sound from any of your apple products without needing any extra accessories. The ReSound Smart app lets you personalize your hearing aids, and remembers all your favorite settings. The Smart app also has a Finder function, so if you can't find your hearing aids where you thought you left them, one tap will show you where they are and you don't have to waste time ransacking the house.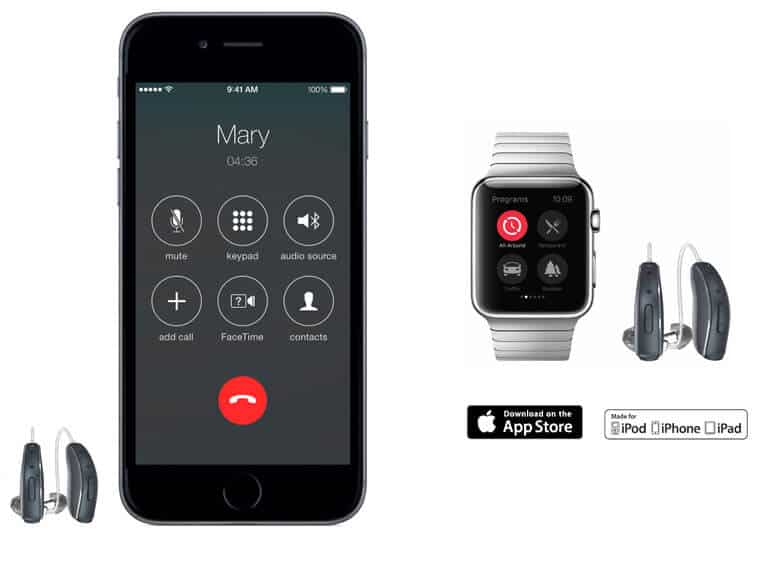 If you don't have an iPhone, ReSound has created a solution.
Using your Android or Bluetooth-enabled device, you can still enjoy connectivity via the Phone Clip+.

Also from ReSound is ENZO2, a small yet extremely powerful hearing aid that gives your access to any sound, wherever it's coming from. It's power allows those with severe or profound hearing loss access to natural, effortless hearing. These hearing aids work like wireless stereo headphones, simplifying your life and keeping you connected. With binaural directionality and spatial sense, ENZO2 helps you locate sounds, and focus on what you want to hear. Like LiNX2, ENZO2 uses the ReSound Smart app, and is fully customizable to suit your unique hearing needs. With direct streaming from you iPhone, iPad, iPod, or Apple Watch, you'll have the same opportunities to connect and interact as everyone else.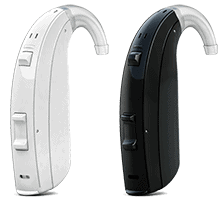 Halo 2
Starkey tempts those looking for a made for iPhone hearing aid with their new Halo 2 model. With quad core twin compressor technology, this is one powerful hearing aid that's all about connectivity.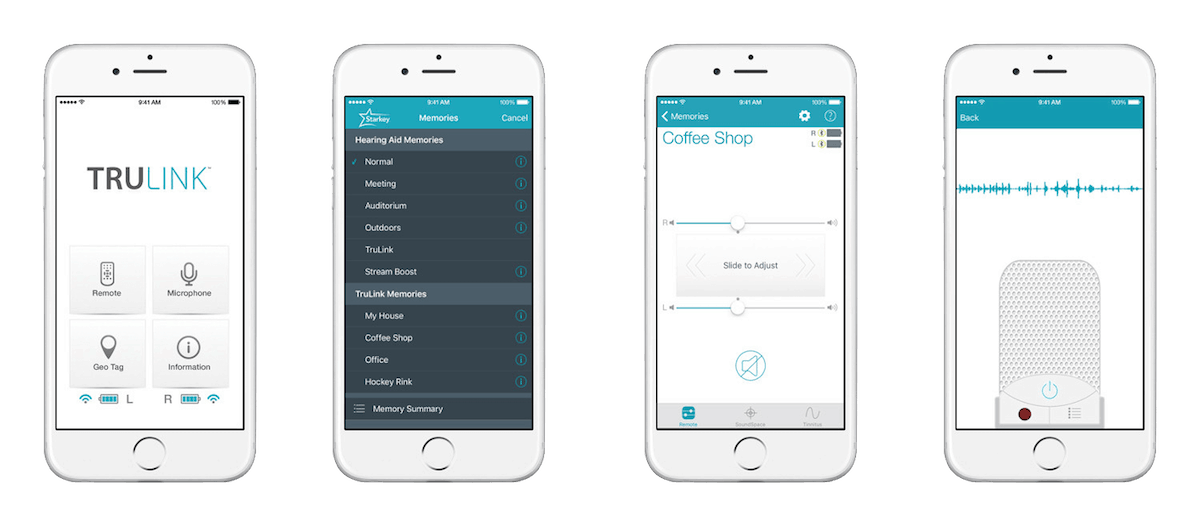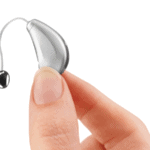 Using the TruLink Hearing Control app, Halo 2 connects wirelessly with your iPhone, iPad or other Apple product. From talking on the phone to music listening or even hearing driving directions, any program you run on your phone can be streamed directly to your hearing aids. With the app, you can easily personalize the settings and programs of your hearing devices, for natural hearing both in and out of doors. Halo 2's added power also means you'll experience music in a whole new way. With the latest in listening technology, you'll hear all the subtleties of the music streamed right to your ear.