---
ReSound is a Danish manufacturer of hearing aids, founded in 1943. Committed to helping people rediscover hearing, ReSound has produced some exciting hearing technology over the years. ReSound was the first to develop an open-standard digital chip, as well as Wide Dynamic Range compression sound processing and Digital Feedback Suppression – all of which provide wearers of their hearing aids with natural, clear sound and a comfortable listening experience. Currently, ReSound is represented in 80 countries and collect data for product development from research centers worldwide.
A Rechargeable Option
ReSound LiNX Quattro is the world's first Premium-Plus hearing aid with unprecedented Layers of Sound™ and the world's most advanced rechargeable solution.
With ReSound LiNX Quattro both low and high-pitched sounds are fuller and more natural. Quiet situations are truly quiet and louder sounds are comfortable, crisp and distortion-free. Children's laughter and the high notes and deep tones in music, are now fuller and more enjoyable.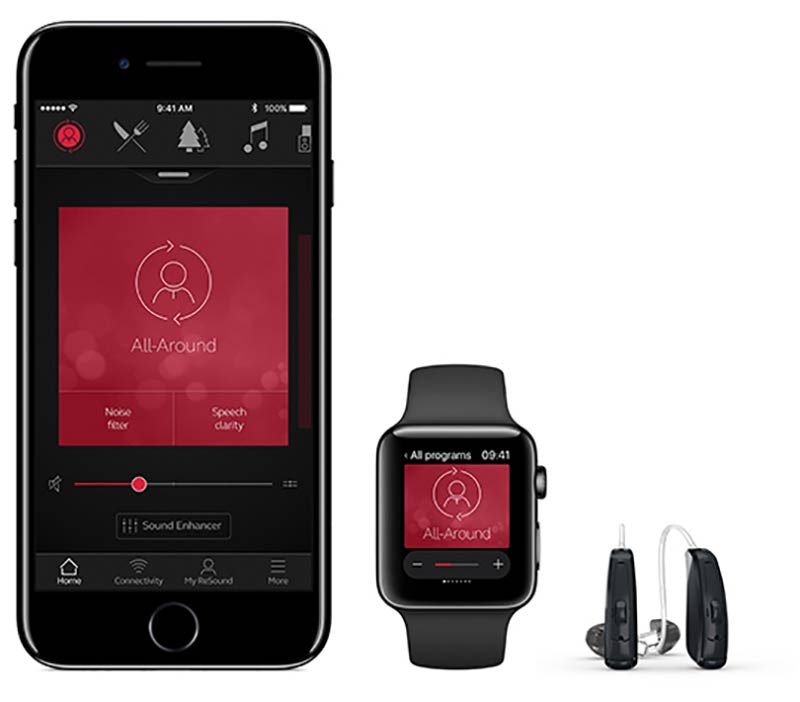 LiNX 3D
Made for iPhone Hearing Aid
ReSound's LiNX 3D improves upon the first generation LiNX, a Made for iPhone hearing aid. The LiNX 3D enables wearers to connect wirelessly to their smartphones and other electronic devices, opening up a world of accessibility. Wearers are able to stream their phone calls, music, and other media directly from their devices to their LiNX 3D hearing aids. In terms of listening experience, the LiNX 3D updates the features that made the LiNX great: Surround Sound, which assists wearers in location the source of sound and provides 360 degree spectrum of sound; New Binaural Directionality II and Spatial Sense, both of which support the brain's natural ability to process and locate sounds; and improved speech recognition. For a seamless listening experience, the ReSound LiNX 3D offers a geo-tagging function, which saves wearers' preferences in different sound environments and automatically readjusts when wearers return to those spots.
Other Features and Styles
---
LiNX 3D and ENZO² offer tinnitus therapy. The LiNX 3D is available in completely-in-canal, invisible-in-canal, receiver-in-canal, in-the-ear, and behind-the-ear models, while ENZO² is worn in the behind-the-ear style. The ReSound Smart App allows wearers to control balance and tone in music and conversation, against background noise. ReSound also offers assistive listening accessories, such as the TV Streamer to connect home entertainment systems to the hearing aids, as well as a personal mini microphone that directly streams voices and sounds. A Phone Clip and a Remote Control increase accessibility for wearers, while giving them ease of control over their devices and hearing aids.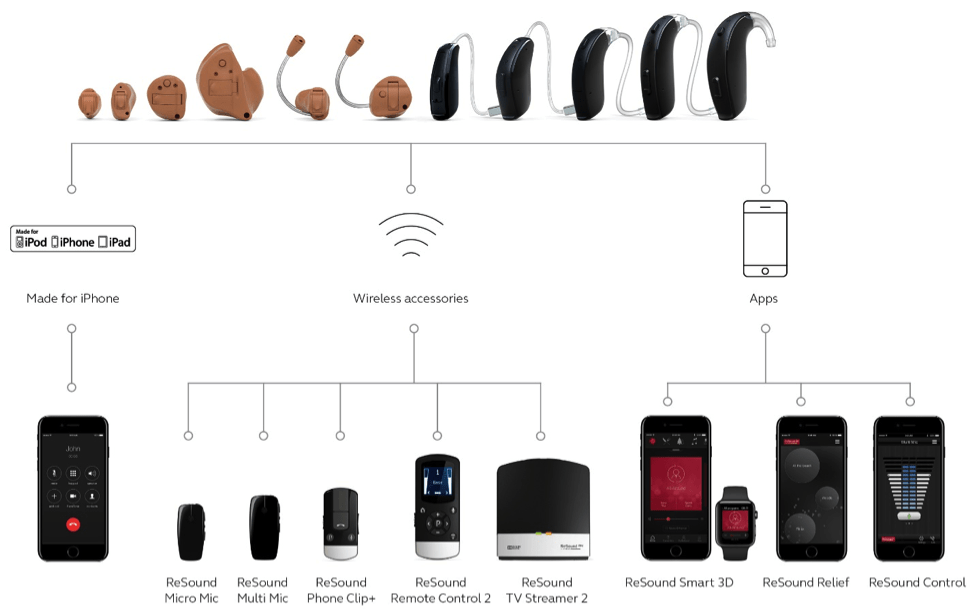 ---
Interested in ReSound Hearing Aids?
Our specialists are experts at helping you find the right hearing solution for you. Schedule a FREE hearing test and consultation at one of our over 50 locations by calling (888) 230-0875
Find a Location Near You