Address
Parkhill Professional Building
35104 Euclid Avenue Suite 100
Willoughby, OH 44094
Hours
Monday: 9:00am-5:00pm
Tuesday: 9:00am-5:00pm
Wednesday: 9:00am-7:00pm
Thursday: 9:00am-5:00pm
Evening and weekend available by appointment.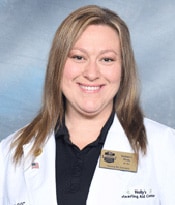 Stefanie Perez, BC-HIS
Board Certified Hearing Instrument Specialist
Stefanie Perez is Nationally Board Certified in Hearing Instrument Sciences. She has proudly serviced the hearing impaired in Lake and Geauga Counties for over 20 years. Stefanie has a genuine interest in educating the community about hearing loss and how hearing aids can reconnect the patients to their family and friends. When Stefanie meets with a patient she puts forth every effort to help improve their lives through better hearing and understanding. Her positive outlook on assisting the hearing impaired has been priceless. Stefanie has two beautiful children who are honor students. They are very active on the competitive swim team, soccer teams, and both play the trombone in the marching, symphonic, and jazz bands. Stefanie stays very active keeping up with her kids in her spare time.