Hearing Loops in Salt Lake City
What is a hearing loop?
A hearing loop, also known as an induction loop, is an assistive listening system used in spaces that may be challenging for people who are hard of hearing.
Hearing loops consist of a copper wire that picks up sound from a PA system or another audio source. The copper wire is installed into the perimeter of a space, such as an auditorium or theatre, and it transmits audio signals through electromagnetic waves. The signals are picked up from a telecoil (T-coil), which is available in certain models of hearing aids.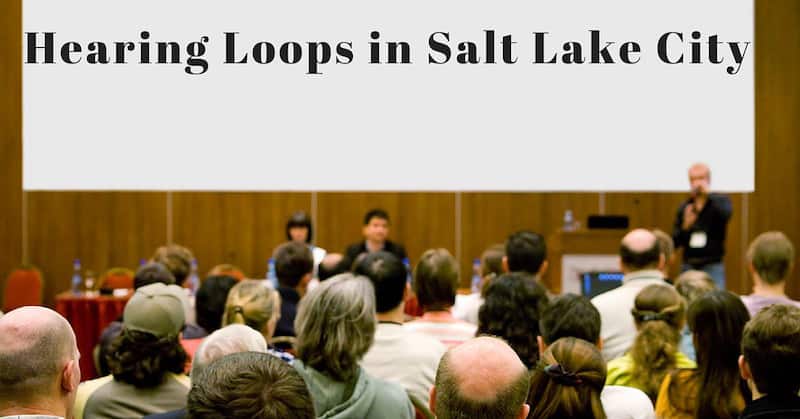 Hearing loops are popular in many parts of the world. They have been in use as an assistive listening device in public spaces as well as transportation (taxis) in Europe and Australia for over 45 years. In the past decade or so, hearing loops have become more popular in the US.
Around the US, hearing loops have been appearing in places such as public transportation hubs, bank teller windows, libraries, universities, and performance art or lecture venues. Hearing loops provide people who are hard of hearing with an incredible quality of sound and ease of accessibility.
A Growing Push for Hearing Loops
You'll find hearing loops in certain venues in big cities, but they are not ubiquitous. As a result, many hard of hearing communities have been organizing around a push for the installation of hearing loops in different venues.
Since the passage of the Americans with Disabilities Act over 25 years ago, many public and private spaces are required by law to provide assistive listening devices or other accessibility accommodations for people who are hard of hearing. Installing a hearing loop in these spaces are a simple and cost-effective solution to accessibility. Wearers of hearing aids simply have to switch their program function to "T-coil," while people who do not use hearing aids are provided with a personal amplification device to pick up the electromagnetic signals.
In Salt Lake City, the Loop Utah Steering Committee has been meeting at the Sanderson Community Center for the Deaf and Hard of Hearing. Loop Utah is "an ongoing advocacy campaign dedicated to educating Utah venues about the many benefits of hearing loop technology[…] Loop Utah will serve to attract, educate, and advocate as the collective voice for loop technology so the Hard of Hearing community can have the enriched experience they deserve in venues across the state of Utah."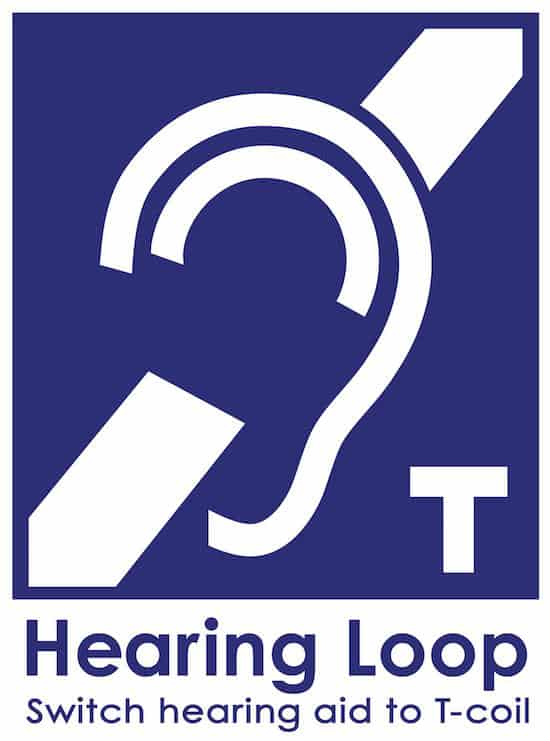 Looped Venues in Salt Lake City
C urrently, there are only four places in or near Salt Lake City that indicate that they offer hearing loop technology. In Salt Lake City, the Weber State University Val A. Browning Center for Performing Arts is the first large venue to offer hearing loop technology. In an article from September 2015, Frank Bradshaw, Browning Center's director, said that "enhancing the experience for audience members is precisely why the new technology was added…We have an obligation to bring to the community the highest performance. Our patrons will no longer have to have the stigma of wearing a headset or collar."
Other places include the Sanderson Center in Taylorsville and the First Unitarian Church (569 South 1300 East).  According to an article in the Salt Lake Tribune, the Loop Utah movement hopes that new buildings will be equipped with hearing loops, including reconstruction of the Capitol Theater and the New Hale Center. People who have experienced sound through hearing loops say that it is a transformative listening experience. They are no longer battling against background noise to focus on the sounds they want to hear. The clarity and richness of sound has inspired people to encourage their local businesses and houses of worship to install hearing loops for better accessibility.
If you are interested in getting involved in the push for more hearing loops, join the Loop Utah Committee for a meeting. If you have questions about your hearing aid and whether they are equipped with telecoil technology, visit us at My Hearing Centers in Salt Lake City