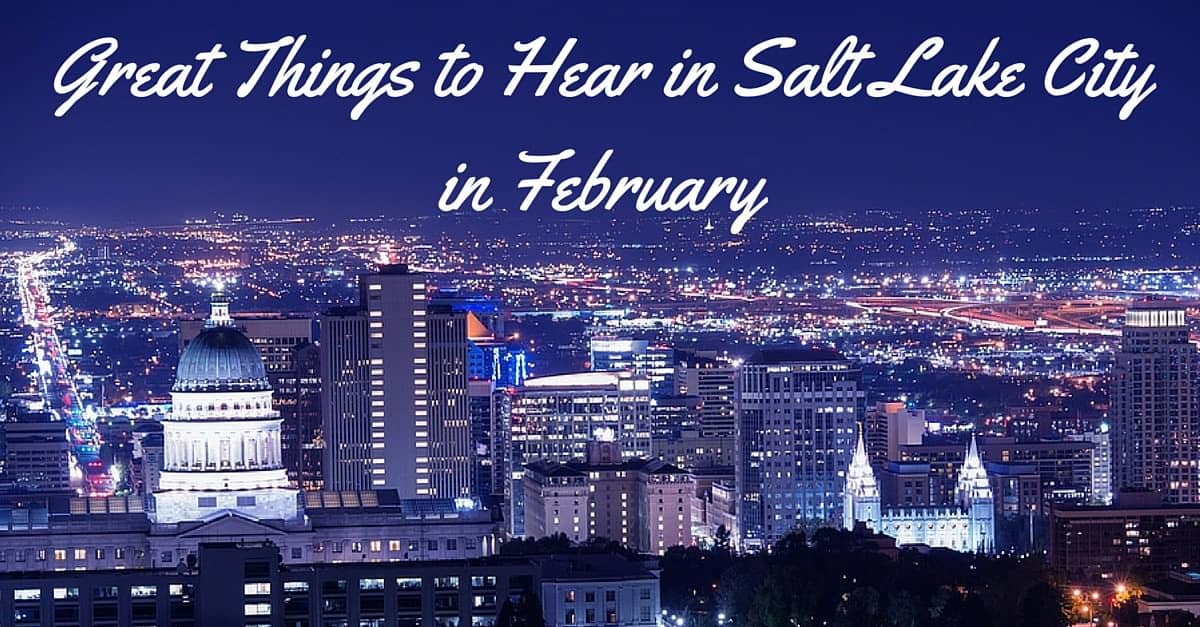 With Valentine's Day around the corner and an extra-long month of February this year, there's a jam-packed calendar of events in Salt Lake City. For our clients based in Salt Lake City, we've put together a collection of our selections of great things to hear.
---
Events at the Utah Symphony
On February 12 and 13, the Utah Symphony celebrates 75 years of Broadway favorites, with vocalists Melissa Errico, Morgan James, Hugh Panaro, Stephen Buntrock, and conductor Jerry Steichen. Songs include selections from Rogers & Hammerstein, such as "Oh What a Beautiful Morning" (Oklahoma!), "There is Nothing Like a Dame" (South Pacific); Bernstein and Sondheim's "Something's Coming" and "Balcony Scene" (West Side Story); Kander and Ebb's "Cabaret" (Cabaret) and "All That Jazz" (Chicago); Gershwin's An American in Paris; and Jonathan Larson's "Seasons of Love" (Rent).
The following week, February 19 and 20, brings Mahler's Symphony No. 8, also known as "Symphony of a Thousand." This masterpiece from Mahler highlights the human voice as a symphonic instrument, and was written to be performed by over 500 singers and instrumentalists and several hundred performers. It will be performed at two O.C. Tanner Gift of Music concerts. Conductor Thierry Fischer leads both the Utah Symphony and the Mormon Tabernacle Choir. The event is free, but guests must reserve tickets beforehand.
Engage your ears and your eyes with a collaborative program between Ballet West and the Utah Symphony. With Thierry Fischer conducting and Louis Schwizgebel on piano, dancers from the Ballet West company will showcase selections from An American in Paris, Tarantella, Ravel's "Piano Concerto in G," and Debussy's Jeux.
For more information, schedule, and tickets, visit www.utahsymphony.org.
---
Art-House Films at the Salt Lake City Film Society
With Oscar season on the way, catch the documentary shorts nominated for an Academy Award in 2016. The Salt Lake  Film Society presents two programs that include films such as Body Team 12, A Girl in the River: the Price of Forgiveness, Last Day of Freedom, Chau Beyond the Lines, and Claude Lanzmann; Spectres of the Shoah. Documentary shorts run from February 12 to February 18. Other programs include Oscar Live Action Shorts and Oscar Animated Shorts.
This weekend, on Valentine's Day, take your film-loving love (or just yourself!) out to the movies with the Valentine Sweetheart Deal – $25 for 2 evening tickets, a large popcorn and 2 medium drinks. Currently showing are Son of Saul, Hail, Caesar!, Carol, Anomalisa, Brooklyn, and 45 Years. All have received critical acclaim, especially Cate Blanchett and Rooney Mara's stunning performances in Carol, and Saoirse Ronan's radiant characterization of a young Irish immigrant in the classic romance, Brooklyn.
The Salt Lake Film Society is also proud to present open caption screenings on Tuesdays, showtimes at noon and 7pm.  For tickets and full schedule of film screenings, visit saltlakefilmsociety.org.
---
An Inspector Calls at the Pioneer Theatre Company
From February 19 to March 5, the Pioneer Theatre Company presents An Inspector Calls, a murder-mystery. From their website: "In turn-of-the twentieth century England, a prosperous family is gathered to celebrate the engagement of their daughter when a mysterious inspector arrives to investigate the death of a young woman from the nearby town." Through the course of the evening, intricate threads are revealed that tie them to the young woman's life. For more information, visit www.pioneertheatre.org.