Hearing Aids and Hearing Tests in Glendale, AZ
Contact Information
Address 7075 W Bell Road Suite A-13
City, State, ZIP Glendale, AZ 85306
New Patient # (623) 255-3605
Current Patient # (623) 208-6225
Hours of Operation
Monday 9am – 5pm
Tuesday9am – 5pm
Thursday 9am – 5pm
Friday 9am – 5pm
Directions
We are located on Bell Road, east of the 101 freeway and the Arrowhead Mall.
[[[["field9","equal_to","Arizona"]],[["show_fields","field13"]],"and"],[[["field9","equal_to","Utah"]],[["show_fields","field21"]],"and"],[[["field9","equal_to","California"]],[["show_fields","field17"]],"and"],[[["field9","equal_to","Nevada"]],[["show_fields","field20"]],"and"],[[["field9","equal_to","Oregon"]],[["show_fields","field18"]],"and"],[[["field9","equal_to","Wyoming"]],[["show_fields","field14"]],"and"],[[["field9","equal_to","Idaho"]],[["show_fields","field19"]],"and"],[[["field29","equal_to","EU"]],[["redirect_to",null,"https:\/\/myhearingcenters.com\/thank-you-eu\/"],["show_fields","field30"]],"and"]]
Contact the Glendale Location
About Our Glendale Office
At My Hearing Centers we offer the highest quality and most affordable hearing aids. 7075 W Bell Rd Suite #A-13 in Glendale, AZ is home to one of our great hearing centers. Our patients will notice the My Hearing Centers difference from the time they enter the door, through the hearing evaluation and the solutions designed uniquely for them. Our office in Glendale provides hearing recommendations for your specific hearing loss, in depth hearing evaluations, and the most cutting edge hearing technology on the market. If you are in the market for hearing aids Glendale, AZ My Hearing Centers will provide our services with the outstanding patient care you expect while addressing any questions or concerns you may have. We are located just east of Sun City and the Arrowhead Mall.
Please feel free to call our office and make an appointment if you have even the slightest concern that you may be experiencing any hearing problems. Our hearing professionals in Glendale will conduct a free hearing screening and provide you with hearing recommendations for your specific type of hearing loss. They will suggest one our many different hearing aid models that will work best for your specific hearing situation.
Our staff enjoys interacting with our patients while enhancing their quality of life through our quality products and service, all at an affordable price. Our mission is to not let anyone's hearing loss continue to affect them from fully enjoying their life. Please do not put off fixing your hearing loss any longer, contact our Glendale office today to schedule a complimentary evaluation.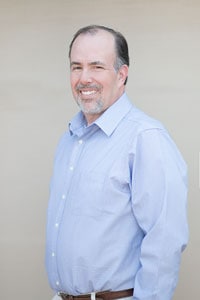 Mark Baker, H.A.D
Mark Baker grew up in Colorado and moved to Arizona to attend ASU. Mark is a licensed hearing aid dispenser with over eleven years of experience in the industry. Mark enjoys helping people hear better and accommodating them with the best technology available. Although he loves the desert, Mark still loves the mountains and all of the adventures you'll find in them. Mark is a proud father of 2 great teenagers and enjoys family and outdoor activities; including hiking, mountain biking, ATV riding and camping..
"From a young age, I've been fascinated with how much a small device, such as a hearing aid, can impact a life. Knowing that I can help people and have such an impact on their lives has motivated me to help everyone I can."
Popular Places Near Glendale
University of Phoenix Stadium
Glendale Chocolate Festival (every FEB)
Deer Valley Rock Art Center
Facts about Glendale
Bills Itself as "America's Antique Capital"
Home to Thunderbird School of Management
The Arizona Cardinals play in Glendale
In addition to our great services we have created the following incentives to offer our patients:
---
The most cutting edge hearing technologies available today.

2 to 3 year complete service warranty with damage and loss coverage on nearly all hearing aids.

Risk-free 30 day adjustment period.

Free in-office cleanings, repairs and adjustments.

Free annual hearing evaluation.

Variety of insurances accepted.
---
---

---
Overall Rating /
54

Total 1st-Party Reviews
My Hearing Centers - Glendale
5.0

out of

5

stars
review from
Jne Chapman

- July 14, 2018
My mother was visiting AZ from CA. She has a set of Siemen's hearing aids that she purchased from a local provider in CA. While visiting, her hearing aid stopped working. I did a google search for the closest provider to my home. I stumbled across My Hearing Center's and gave them a call. The receptionist Ashley was an absolute doll. From the minute she answered the phone up until the minute we left the office. She was able to call the Siemen's factory and find out my mother's warranty information and she was also able to clean my mother's hearing aid and got it to WORK again. We are so blessed. When my mother is ready to upgrade, we will definitely be buying from a My Hearing Center's in CA. Thanks again. Two thumbs up.
Leave Us a Review
We've found that customer reviews are very helpful in keeping our business thriving. We would truly appreciate a review from you!
Visit your preferred site to leave a review or comment:
Call (623) 255-3605 to schedule your appointment TODAY!