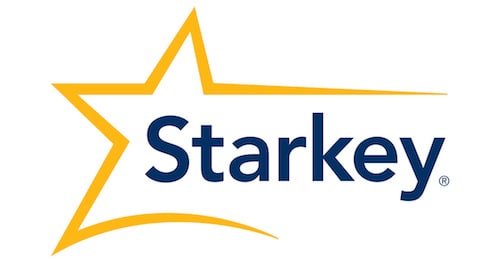 Starkey Halo Hearing Aids
Founded in 1967, Starkey Hearing Technologies is the sole American hearing aid manufacturer. Starkey is committed to bringing people together and enriching lives by empowering individuals to reach their full potential. Starkey was the first manufacturer to introduce an in-canal hearing aid and the first custom, digital, fully programmable invisible hearing aid. The Starkey Hearing Research Center based in Berkeley tests and researches the latest technology to update Starkey hearing instruments, while the Starkey Hearing Foundation donates hearing aids to developing countries for each Starkey hearing aid purchased. So far, Starkey has donated over 1 million hearing aids worldwide.
Halo 2: Made for iPhone
Halo 2 is the second iteration of Starkey's breakthrough hearing aid, the first of its kind designed to connect hearing aids to the iPhone. The first generation of Starkey's Halo Made for iPhone hearing aid was awarded the Silver Edison Award in April 2015.
Through the TruLink Hearing Control app, the Halo streams phone calls, FaceTime, music, and other media directly from the iPhone to the wearer's ears. TruLink also makes control of program settings, volumes, and other features much easier and discreet for hearing aid wearers.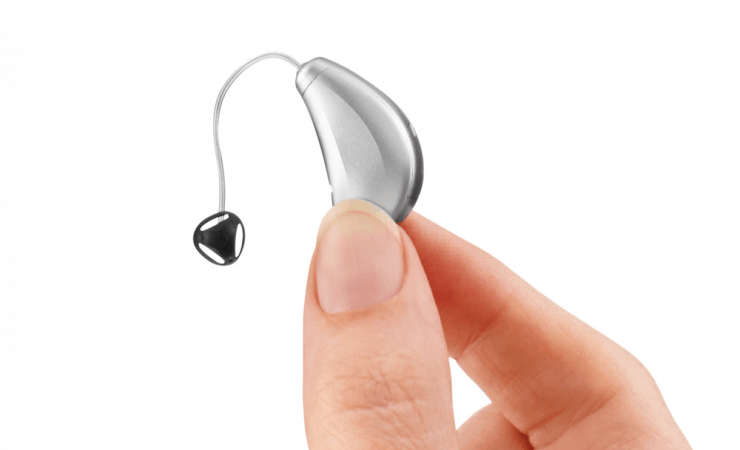 Updated Features

Halo 2 and TruLink give wearers a truly seamless experience with an exciting geo-tagging feature. By activating the iPhone's GPS, Halo 2 geotags wearer preferences and archives this data. When wearers return to particular locations, Halo 2 automatically adjusted preferences to the wearer's saved preferences.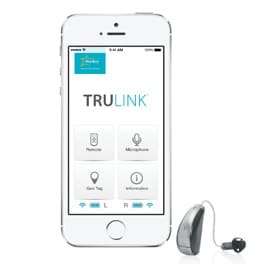 With feedback from hearing professionals and seasoned hearing aid wearers, Starkey has included features to enhance directionality, speech recognition, and noise cancellation. The SoundSpace tool, accessible through the TruLink app, allows wearers to make minor adjustments to sound quality, providing improved personalization. For wearers who need extra amplification, the TruLink app also turns the iPhone into an assistive listening device by utilizing the phone's microphone to pick up sounds wearers want to hear.
Additionally, Halo 2 improves sound quality and faster sound processing, with a more discreet design. With directional microphones, Halo 2 captures the sounds wearers want to hear, whether it is speech or conversation even against background noise. With a HydraShield coating, Halo 2 accommodates many different walks of life, with water and dust resistance.
Natural Listening Experience

With directional microphones, Halo 2 wearers experience clarity of sound in different environments. Halo 2 eliminates distracting background noise, which provides wearers with a clearer sound signal and thus, less listening effort. Halo 2 offers flexibility with different frequencies, balancing high and low frequencies for improved speech intelligibility.
Halo 2's clear amplification does not interfere with the listening experience with feedback. Starkey has included fast feedback elimination technology to prevent the buzzing and whistling of feedback.
Styles and Other Features

Starkey's Halo 2 is available in two styles: receiver-in-canal and behind-the-ear. They are fully customizable hearing aids that may be personalized for specific hearing needs. Halo 2 is designed to address mild to severe hearing loss. Though it is a Made for iPhone hearing aid, Halo 2 is also now compatible with Android phones!
For those who experience the symptoms of tinnitus (approximately 80% of hearing loss cases are accompanied by tinnitus), Halo 2 offers Starkey's renowned Advanced Multiflex Tinnitus Technology. This provides sound therapy to ease the discomfort of tinnitus symptoms, and is accessible through the TruLink app.
Starkey Halo Tips
Instructions for Pairing Starkey Halo 1 or Halo 2 to an iPhone are as follows:
Pairing should be done after the hearing aids have been programmed for your hearing loss in your hearing practitioner's office.
Pairing Halo to an Apple Device
1. Navigate to the Settings icon on the Apple device
2. If Bluetooth is turned Off on this screen, turn it On
3. Then Select General > Accessibility
4. While on the Accessibility page, open and close the battery door on the hearing aids. Note: A fresh battery is needed in each hearing aid.
5. Once you have closed battery doors scroll down the accessibility page and select hearing devices .
6. Tap on the Hearing Aid Name to connect the hearing aids to the Apple device.
7. Select Pair for each request, if pairing a binaural set you will receive two requests. Note: These requests may be several seconds apart
8. A black check mark will appear next to connected hearing aid name and the name will appear in Blue.
Once this is complete your hearing aids are synced with your phone correctly.
If your aids have been synced with your phone previously but won't reconnect, you will need to tell the phone to forget the previous devices and reconnect aids with the phone by following the directions above.
How to tell your phone to forget devices:
1. Go to settings > General > Accessibility > Hearing devices
2. Click on the name of the aids that appear and scroll down to bottom of page. Select forget this device.
3. Now you will be able to complete the instructions for pairing Halo aids to phone from the beginning.
Good-To-Know
Halo can be paired with up to 5 Apple devices but can only be connected to one Apple device at a time
To switch to another paired Apple device, turn Bluetooth off on the original device and the next Apple device will automatically be seen, granted Bluetooth is ON